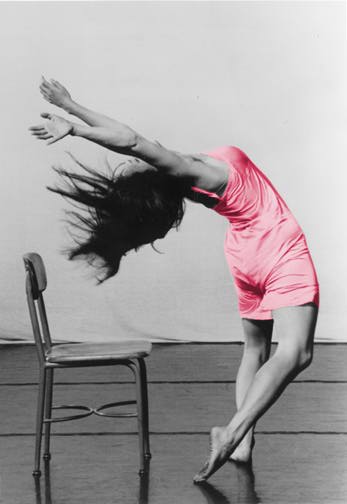 Photo by Marty Sohl of Hilary performing her choreography Pink Slip (premiere Taipei, 1992).
Biography
Internationally acclaimed performer and choreographer Hilary Bryan is certified in Laban Movement Analysis (LMA) by the Laban/Bartenieff Institute of Movement Studies, New York. In 2007-08 she was artist in residence at Sam Houston State University, Huntsville Texas, creating four new choreographies and teaching choreography, somatics, modern dance, video dance, and LMA. She has also taught dance and LMA at University of California Davis, California State University Hayward, and in the Integrated Movement Studies LMA certification programs, working closely with Peggy Hackney and Janice Meaden. Ms. Bryan teaches dance and body alignment internationally, including engagements at the University of California Berkeley, Oakland Ballet, and festivals in Saint Petersburg, Moscow, and New Zealand. Her master classes at TsEH in Moscow were supported by Dance Theater Workshop (New York) and Trust for Mutual Understanding.
Hilary Bryan Dance Theater grew out of Frank and Bryan Worldwide Movers (originally founded in 1996) with choreography that has been critically acclaimed internationally. A Wisconsin native who trained in ballet and creative movement from the age of three, Ms. Bryan has performed extensively on Taiwan with Dance Forum Taipei, Ming-Shen Ku, and Fu-Lann Tao. She earned her B.A. in Russian, history, and mathematics from Smith College and was awarded the prestigious International Educational Exchange grant for independent academic research in the Soviet Union (one full year of funding).
Ms. Bryan is founder and director of The Body At Work Ergonomics Training and Consulting, training corporate clients to move efficiently and safely at work in order to increase productivity and prevent injury. She also founded The Somatics Series of workshops exploring the diversity of somatic practices.
Ms. Bryan teaches dance, theater and comparative literature at the University of California Davis while working toward her doctoral degree in Performance Studies, Practice as Research track.