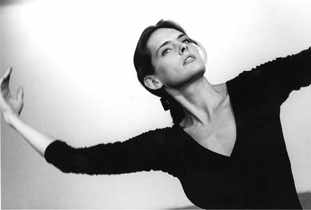 Hilary Bryan, CMA, is a Wisconsin native who trained in ballet and creative movement from the age of three. She performed extensively on Taiwan with Dance Forum Taipei, Ming-Shen Ku, and Fu-Lann Tao as well as domestically with Charles Moulton, Deborah Slater, June Watanabe, Dandelion Dancetheater, Mobius Ensemble, and Pearl Ubungen.

Hilary Bryan is a Certified Movement Analyst and Registered Somatic Movement Therapist. She studied Laban Movement Analysis (LMA) and Bartenieff Fundamentals (BF) at the Laban / Bartenieff Institute of Movement Studies, New York, where she conducted research on the application of LMA to ergonomics and to injured workers suffering from repetitive strain injuries. She teaches in the Integrated Movement Studies L/BMA certification programs and is a guest lecturer in LMA/BF at California State University Hayward. Hilary also teaches dance and body alignment classes at studios throughout the Bay Area. Prior teaching engagements have included the University of California at Berkeley, Oakland Ballet, and festivals in Taiwan, Russia, and New Zealand. Hilary holds a BA in Russian language, history, and mathematics from Smith College. She has also worked in Human Resources, managing workers' compensation claims, developing Injury and Illness Prevention Plans (IIPP) and a range of corporate safety training programs. Hilary also choreographs and co-directs the dance company Frank and Bryan Dance.

Ms. Bryan earned her B.A. in Russian, history, and mathematics from Smith College and was awarded the prestigious International Educational Exchange grant for independent academic research in the Soviet Union (one full year of funding). She has studied Action Theater with Ruth Zaporah and Sten Rudstrom and classical voice with Bettina Bjorksten and Jane Bryden. Influential teachers have included: Ruth Zaporah, Keith Hennessy, Peter Schmitz, Jim Coleman, Hannah Wiley, Bess and Tibor Zana, Sunny Pang, Lucinda Childs, Deborah Hay, Steve Paxton, Augusta Moore, Peggy Hackney, Janice Meaden, Barbara Mahler, Neil Greenberg, Susan Klein, Bonnie Bainbridge Cohen, and scores more.
In January 2000, Ms. Bryan co-founded The Body at Work, an ergonomics consultancy, training individuals and corporate clients to move more efficiently and safely at work.