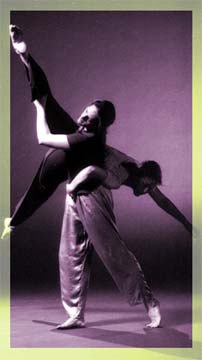 Frank and Bryan Dance
was formed in 1996 by Hilary Bryan and Dawn Frank.

More about Dawn.

More about Hilary.
Recently spotlighted by Rita Felciano of the SF Bay Guardian for presenting one of ten major performances that "whetted (her) appetite for dance," Frank And Bryan Dance is a dance company and choreographer's collective, assembled to further the creation and performance of new work by Hilary, Dawn and our collaborators.
By exploring the collisions of different points of view, our mission is to to make sense of the pit of the stomach; to dive into what frightens us most; to find patterns weaving through the chaos of our lives; and to rest with the unkown.
FAB Dance's work explores a myriad of human relationships using many different stylistic approaches, including contact improvisation, pure movement, and dance-theater. Our creative processes also vary widely, from beginning with a clear idea and drawing it out with dancers in rehearsal, to beginning with bodies in space and developing a theme through the rehearsal process.
Regardless of origin or style, we believe that the cycle of creating dance does not end when a piece is presented. Instead, a vital element of the process of making dance begins in performance. Dance is a performing art that cannot be completed in the way that a novel or a painting can, to be left shelved in a library or hung in a museum. Instead, we perform our work as often and widely as possible, so that performance, context and audience can transform the work.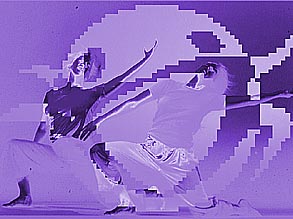 Hilary and Dawn have been working collaboratively since 1994. Our work has been performed internationally in New Zealand, Taiwan, and Italy, domestically in New York, Maine and Massachusetts, and locally at venues throughout the San Francisco Bay Area, including Theater Artaud, ODC Performance Gallery, Dancers' Group Studio Theater, Venue 9, Luna Sea Women's Performance Project, Eighth Street Studios, and the Emeryville Outdoor Dance Festival. Rita Felciano of the San Francisco Bay Guardian described our work as "poignant" and "unpretentious."